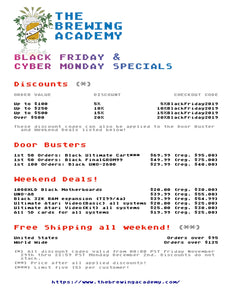 Folks,   We have our Black Friday and Cyber Monday specials available for your perusing!  We are especially proud of the pretty deep discounts available for you! Free shipping minimums have been lowered for the weekend and the $69 price on the Ultimate cart is pretty cool.  Also, the discounts also apply to ALL special prices.  So, you could buy an Ultimate cartridge for as low as $55! Enter the discount codes at checkout.  Here they are for easy cutting and pasting! ORDER VALUE DISCOUNT CHECKOUT CODE Up to $100 5% 5%BlackFriday2019 Up to $250 10% 10%BlackFriday2019 Up to $500...
---
ATTENTION: Paypal has changed their refund policy.  Paypal is no longer reversing fees when a refund is processed.  Therefore, if a refund is approved, any amount refunded or given in store credit will have a 2% deduction.  Apologies for having to do this, but PayPal's new policy went into effect on 01 November and we cannot afford to not pass it along.  Thank you for your understanding!
---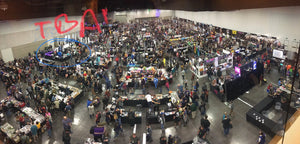 Hello! We just got back from Portland Retro Gaming Expo and BOY are we tired! We met ALL sorts of people and saw amazing things. There is a new firmware out for the 2600-UNO that will run the new Pursuit of the Pink Panther ROM that was just discovered.  LINK:   https://github.com/DirtyHairy/UnoCart-2600/releases/tag/v09 Orders will go out ASAP.  I hope too have most of them out today.  S-Drive Max orders will go out no later than Friday of this week. Let me know if you have any questions!
---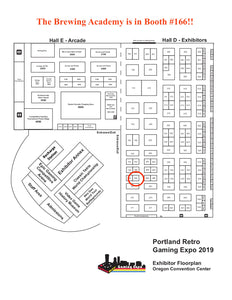 Looking forward to seeing you all there!
---
Folks, Almost every single order is out the door!  Woot!  There are five orders that will go out tomorrow (Tuesday) and then all orders will be caught up! Free shipping continues, with the minimums being raised just a little bit ($95 US//$125 WorldWide).  Prices haven't changed by the way, so it really is free shipping! Thanks for all of your orders.  We are knee deep into preparations for Portland Retro Gaming Expo in October!  We are also looking at producing even more things for your retro computing and gaming needs! -MacRorie!