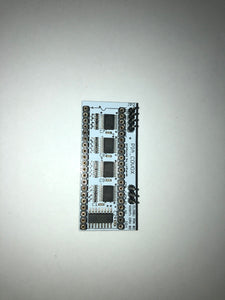 The Brewing Academy
P-COVOX: Digital to Analog Converter
Regular price
$20.00
$0.00
P-COVOX is a very simple device, 4channel, discrete component digital-to-analog converter (DAC) that fits under PIA chip. It isn't as Hi-Fi as modern sound cards, but it`s perceptiom may be a lot better than a POKEY  - especially playing MODs or NEO files
Main features :
easy fitting - one wire in most cases

high quality PCB

transparent for Atari OS / Hardware / Ultimate / etc. 

Equal audio output level on both channels

Optional pull-up resistors on DATA LINES / not fitted by default/

ROHS, PB Free
 INSIDE BOX :
A fully tested and assembled P_COVOX
INSTALLATION STEP BY STEP:
Disclaimer: If you are not familiar with soldering or you do not have proper tools, please LET a pro technician do it for you or send me your ATARI BOARD for installation. Upgrade installation cost is 10€ only. Contact me to arrange installation. Otherwise, please remeber - wrong tools usage or low skills may damage atari and ultimate; any damage/harm to your hardware is NOT subject of any kind of warranty.
If Your PIA chip is NOT socketed:
desolder PIA CHIP

solder precise socket into its place (supplied)

insert P_COVOX

Insert back PIA chip to P_COVOX
If Your PIA chip is socketed:
remove PIA CHIP

insert P_COVOX

Insert back PIA CHIP to P_COVOX
Connections to be made with small wire:
CTRL - select one pin pin only  to set covox`s  address page:

if you solder CTRL signal to pin 9 of LS138 on Atari board, covox will be present at $D600

if you solder CTRL signal to pin 10 of LS138 on Atari board, covox will be present at $D600

if you solder CTRL signal to pin 7 of LS138 on Atari board, covox will be present at $D700
 O2 signal problems:
on majority of  ATARIs middle and RIGHT  pins of JP1 connector shall be jumpered / connected. No further actions required

if Your sound is distorted, remove the jumper; then  connect RIGHT pin of JP1 to CPU pin 39
---
More from this collection