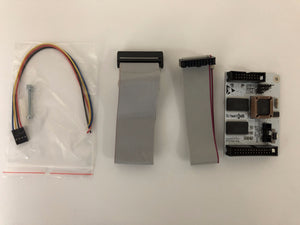 The Brewing Academy
Ultimate 1MB Upgrade
Regular price
$110.00
$0.00
      Ultimate is one of the best ATARI 8bit internal upgrades ever, invented by Sebastian Bartkowicz aka Candle`o`Sin.  Installation of this upgrade can take 5 minutes or it can take two hours.  Depends one f your machine is socketed or not.
     It's easy, it's simple, it's FUN! Now it's 100% "safe and sound." Of course, what would be a bundle of wires without software support ?
  Here at The Brewing Academy, we ONLY sell the Ultimate 1MB upgrade with Jon "FlashJazzCat" Halliday's firmware already installed.  He is compensated with EVERY unit by TBA directly.
FJC has written an extensive user manual here: CLICK ME
I use these primarily for 1088XEL & 1088XLD builds, but you can put them in your XL/XE machine as well.  If you are looking for something like this for your 800, look >HERE<
Features
As solderless as possible (only RW, PHI2, HALT and RESET lines need soldering when MMU and OS rom are socketed) 

fully flashable SpartaDOS-X with up to 320kbytes for its purposes

Real Time Clock module for SDX with battery backup and NVRAM

fully flashable 4 OS ROM slots

hardware WRITE PROTECT for the whole Flash array

configurable memory expansion with 4 modes of operation (disabled, 320k RAMBO, 578k COMPY SHOP, 1088k RAMBO)

customizable BASIC and MISSLE COMMAND slots (also flashable)

compatible with all XL/XE machines (600XL needs 64kB of RAM first)
Inside BOX :
high quality Ultimate BOARD 

HARTING MMU ADAPTER 20 IDC Female cable

HARTING OS ROM ADAPTER  28 IDC FEMALE ADAPTER 


4pin connection cable

fitting items
NO installation manual is included, but you can reference Lotharek's site >HERE<
---
More from this collection