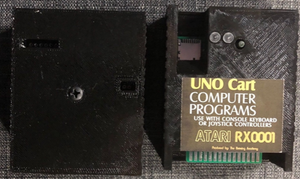 The Brewing Academy
TBA's UNO-A8 Cart for the Atari XL/XE
Regular price
$55.00
$0.00
The UnoCart is an Atari cartridge emulator (CAR/ROM) & XEX/ATR file launcher. It supports files up to 128k in size. Want an Ultimate, but don't want to spend the money for all of the bells & whistles? The UNO Cart is the way to go.  
Not sure you have the files?  Want a collection that is ready to run out of the box?  Consider purchasing our 8gb microSD card for the TBA UNO-A8 cartridge!
NOTE:  The UNO-A8 is an amazing piece of hardware, but It will NOT work in a 400 or an 800.  It will NOT run 8mb AtariMax files.  It is also somewhat wonky with modified machines (i.e., containing Ultimate 1M upgrades without the latest FJC firmware)
The creator of the UNO-A8 Cart, Robin Edwards, has been paid a royalty for every cartridge sold. 
NOTE: You will need a keyboard to navigate the menu.  If you have an XEGS without a keyboard, consider getting a keyboard and/or purchasing our PS/2 adapter: CLICKY
For examples of what the color choices look like, please view this file.
Difference between the UNO-A8 and the Ultimate-A8
Ultimate-A8 ($95 and up)
This is a Full Sized SD-based flash cart that will load a variety of ROM, CAR, and XEX files from a menu.  It has a very wide range of uses and will work on ANY Atari 8-bit machine (400/8008600XL/800XL/1200XL/XEGS/65XE/800XE/130XE and, if you have them, a 1400XL or 1450XLD!)
Assuming that the machine you are putting the Ultimate cart into has the RAM to run the program, the Ultimate cart will run it.  I have yet to come across an XEX or CAR or ROM file it could not load.  Put away your stacks of AtariMAX carts—you can put all of those files on to one SD card!
If you still have questions: https://www.thebrewingacademy.net/UltA8Manual.pdf
UNO-A8 ($55 and up)
The UnoCart is an Atari cartridge emulator and XEX file launcher. It supports files up to 128k in size. If your machine has 64k or more, it will run ATR (disk image) files. Important note – many ATRs will run correctly from the UnoCart. However, any programs that attempt to use the RAM under OS will not work, nor will any software that does not use the standard OS SIO calls.
 tl:dr
Ultimate:  runs any CAR/ROM/XEX file you can find so long as your computer has the RAM to support it. Runs on any machine modified, stock, 400/800/XL/XE/1088
UNO-A8: runs CAR/XEX files less than or equal to 128k in size.  Will run basic ATR files.  Only operates on an XL/XE/1088.
BOTH: You can use any size uSD or SD card with either cartridge.  They must be formatted FAT32.  We recommend SanDisk name brand cards.
---
More from this collection