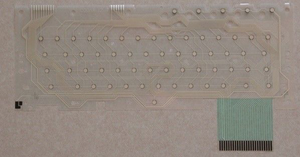 The Brewing Academy
Atari XE Keyboard Mylar
Regular price
$14.99
$0.00
Keyboard not acting correctly?  This may solve the problem.  These Mylars are easily replaceable and will provide years of use. This Simius replacement keyboard mylar is an improved version over the stock Atari Mylar! Each replacement Mylar has a thin coating over the complete Mylar except the conductive key contact pads. This is a high grade manufactured replacement and is less expensive, yet just as high of quality as other replacement keyboard mylars for Atari XE keyboards.
How do you know if this is for you?  Yours needs to be a "Rubber" keyboard produced, among others by Action Technology. In such keyboards, the pressure is absorbed by rubber "caps", the springs are only shocked with some keys, the number of springs can be different. There are known specimens in which the springs are under Shift, SPACE and console keys, but there are also specimens in which only a space is sprung with a spring. Just like the keyboard "on springs", the longest keys are metal rails.
The keyboard housing is twisted with 18 tiny screws.
The conductive film is double-layered and always colorless. Depending on the manufacturer, various subtitles may appear on it, e.g.
FKJ0201131A
AA081400-A ACTION TECHNOLOGY
The inscriptions on the keys in the latest version (catalog number C070015-004) are printed, which makes them susceptible to abrasion (in earlier versions they are still embossed). Some of the copies are made of apparently different plastic than the type described above, as they do not generally turn yellow, but this is the only advantage. On the upper housing of the keyboard, on both sides of the space there are often inscriptions:
on the right, embossed catalog number C070015-002 , C070015-003 or C070015-004
on the left an inscription MADE IN JAPAN (in C070015-002 and C070015-003) or a paper sticker with the inscription MADE IN CHINA or MADE IN HONG KONG (in C070015-004)
It also happens that this type of keyboard does not have these inscriptions, get to know it then the color of the film and the lack of a spring under the Break key.  If your keyboard Mylar says "Mitsumi" or 56-3217, then this is NOT the replacement for you.
---
More from this collection