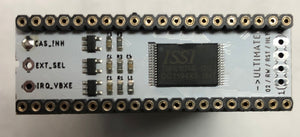 The Brewing Academy
64k SRAM Module for XL/XE computers (v3)
Regular price
$27.50
$0.00
FROM LOTHAREK'S WEB SITE:
SRAM MODULE is my first step to help ATARI owners to repair their computers home, as in most of the cases  faulty is dynamic ram
replaces base ram of 64KB in all 8bit ATARI

replaces broken DELAY LINE chip in XL computers and many more ICs - refer to schematics down the page

upgrades ram in 600XL to 64KB

PCB thickness is 0,8mm

Ultimate 1MB connector

VBXE IRQ connector

CRUCIAL for RAPIDUS installation ...in major cases :-) (2022-02-10)
Inside BOX:
Disclaimer: 
If you:

are not familiar with soldering

do not have proper tools

do not understand STEP BY STEP instructions 
          please LET a pro technician do it for you
Please remeber - wrong tools usage or low skills may damage atari 

Any damage / harm to your hardware is NOT subject of any kind of warranty.

Installation is very easy, but unexperienced hands can do a lot of damage. Please, do not ask me questions WHAT HAVE I DONE WRONG WITH INSTALLATION - answer will be always the same -
I DO NOT KNOW
Step by step: 
REMOVE old RAM CHIPS ( hint: not necessary actaully; if Your ram do not get hot, You can remove resistors on data lines to ram and keep ram chips intact) 

install  SRAM MODULE under MAIN CPU; insert CPU to SRAM MODULE

Please, refer first to VBXE fitting manual to locate following signals at Your motherboard:

EXTSEL (EXT solder point at SRAM module)
CasInh (CI solder point at SRAM module)

Make at least ONE CONNECTION between

CI point  at sram module  to  CAS_INHIBIT SIGNAL at ATARI board
EXT

/

Extension Select - EXTSEL signal/ 

is not needed to resurect atari, but some upgrades may needed it, especially all PBIs:  Rapidus, VBXE with RAM cores, etc....

PIN 1 is below EXT hole; bottom left at below picture.
ps. handy article https://www.evilmadscientist.com/2010/basics-finding-pin-1/ if You do not know how to identify pin 1 in chips. PIN 1 always goes to Pin 1 
SRAM MODULE COMPLETLY REPLACES below parts that can be actually eminated now. 
XE ( and majority of freddy chip, than can be now  replaced even with clk_divider built upon TTL 74)
---
---
More from this collection