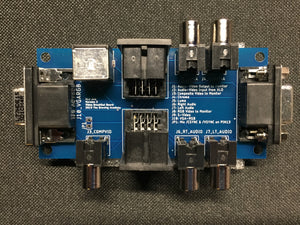 The Brewing Academy
BoB: The Video BreakOut Board for the 1088XLD
Regular price
$60.00
$0.00
BoB
Say "Hello!" to BoB, a video BreakOut Board for the 1088XLD.  This device is specifically made for those people that do NOT want to create a cable.  This unit comes with a M-M 13 pin din cable for connecting to your 1088XLD.  You will have to provide cables for connecting BoB to your display device.
This device will allow you to connect simultaneously via all of the following:
S-Video
Chroma / Luma (two separate RCA jacks)
Composite Video
SUB-D 9 (DB9) RGB/CGA
SUB-D 15 (HD15) RGB/VGA
Audio Right & Left (two separate RCA jacks)
Remember:  You will need SOME kind of RGB board (Sophia rev. B OR VBXE) for RGB monitors.  Monitors *must* be able to scan at 15KHz in order to work with any Atari.
---
More from this collection