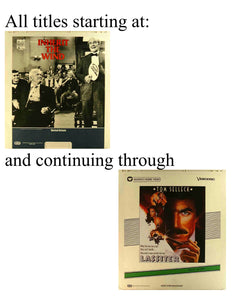 The Brewing Academy
RCA CEDs: Title Starts with "Inherit . . ." through "Lassiter"
Regular price
$0.50
$0.00
These are all titles that start with "Inherit the Wind" and continue up to and include "Lassiter."  This does NOT mean all titles are in stock.  
If you select the title and it allows you to purchase it, then the title is in stock and you should buy it (y'know, if you *want* to ;-) ). We have tried to hide those titles not in stock, but have not quite got it correct.
Condition
These are my duplicates from my personal collection and the other collections I have purchased over the years.  I need to get the duplicates out so I can put other products in.  I have gone through and verified that these are not physically broken (caddies are not broken, discs are not physically cracked/broken), but for the VAST majority of them, I have not watched them.  We cannot guarantee playback.  Sorry, they are 40 years old and we just do not have the time.  They are, therefore, priced accordingly.  Some were shuffled out of my collection and replaced with better copies when I could find them.  
We are happy to take pictures of the more expensive titles.  We will try to include specific photos where possible, but there are over 1300 discs here, so it is not likely to have a picture.  If something is very poor, we will say something prior to shipping.
If it is a two disc title, BOTH discs are included.
Searching
If you have the UPC code (available HERE), searching for it will get you to the grouping it should be found in.  
---
More from this collection