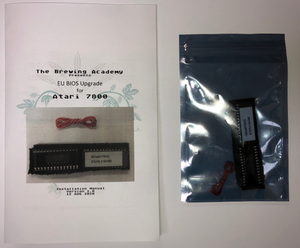 The Brewing Academy
BIOS Upgrade (with Asteroids)
Regular price
$19.99
$0.00
What is it?
The Atari 7800 had two different BIOS chips (Operating Systems): NTSC and PAL.  They were very similar except for the fact that the PAL version did not have a splash screen like the NTSC did.  The PAL version also had built-in Asteroids!
This will still let you play ALL US releases on a US machine.  However, it will only let you run a few PAL releases on an NTSC machine. So, do not expect to run every PAL game on your NTSC machine (For example, Moto Psycho--the best motorcycle riding game in all of human history--will NOT run on an NTSC machine even with this BIOS change.
Skills Required:  You must be able to DE-SOLDER as well as cut traces on the motherboard.  It should go without saying that you also need to be able to solder.  This procedure IS reversible (to a certain extent), but your machine will retain signs that it was once modified.
---
More from this collection