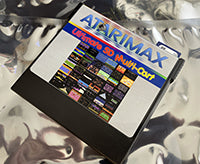 The Brewing Academy
AtariMax SD MultiCart for Atari 5200
Regular price
$150.00
$0.00
Awhile back, we got a few of these for folks.  We are offering them here **as a convenience** to customers.  You can get them direct from AtariMax and we recommend you do that if you want.
We have two flavors:
1.  The Cartridge and the initial SD card as included on AtariMax's website
2. The above PLUS an SD card loaded with 5200 stuff
From AtariMax's Website:
The Atari 5200 Ultimate SD cartridge is an SD card based multi-cart for your Atari 5200 game system.

The Ultimate SD is the most advanced cartridge ever produced for the Atari 5200 and includes a 50 MIPS onboard CPU, advanced upgradable hardware logic, 1024KB of SRAM and 512KB of block flash.
The Ultimate SD Cartridge supports the following Atari 5200 ROM formats:
All standard 32K or less ROM images.
All bank-switched ROM images including Bounty Bob Strikes Back!
MEGA-CART Bank-switched ROM images up to 1024KB (M.U.L.E, etc)
New modes including the Hybrid 1024KB full Read/Write 8k/8k Bank-switching mode
The bank switching logic, CPU firmware, boot flash and menu software are all 100% field upgradable by just placing new files on the SD card and turning on the system!
---
More from this collection