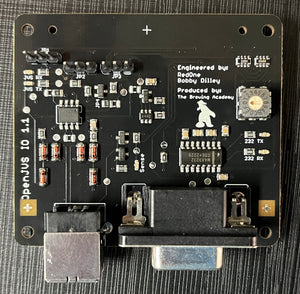 The Brewing Academy
OpenJVS Hat (for Raspberry Pi)
Regular price
$45.00
$0.00
Introduction
With the blessing of Bobby Dilley and RedOne, the creators of the OpenJVS (Pi) Hat, The Brewing Academy is proud to offer them for sale!  Both of them are compensated for each sale, but let's be VERY CLEAR: They are not providing support for them.  If you have difficulties with them, you should contact us at TBA.  If there is a problem we cannot answer, then we will reach out to them when necessary.
As a side note, Chunksin,  the creator of WiPi loader for Naomi, Chihiro, and Triforce has given us permission to give you a link to the folder for WiPi.  OpenJVS PiHat works *wonderfully* with WiPi!  hunksin across most forums anyway - you can use the direct folder link if you like: https://drive.google.com/drive/folders/1d2ToNeE02WAdE3Jo_62NHlxzVegzloVy?usp=drive_link
What is OpenJVS?
From the GitHub: 
OpenJVS is an emulator for I/O boards in arcade machines that use the JVS protocol. It requires a USB RS485 converter, or an official OpenJVS HAT.
The following arcade boards are supported:
Naomi 1/2
Triforce
Chihiro
Hikaru
Lindbergh
Ringedge 1/2
Namco System 22/23
Namco System 2x6
Taito Type X+
Taito Type X2
exA-Arcadia
Questions can be asked in the discord channel: https://arcade.community. If it asks you to create an account, you can simply click anywhere away from the box and it'll let you in!
What is the OpenJVS Hat?
From the GitHub: https://github.com/OpenJVS/OpenJVS/blob/master/docs/hat-quickstart.md
What do you get?
You get a fully assembled and tested OpenJVS Hat with jumpers.  You must provide the Raspberry Pi and appropriate software/hardware.  As we move forward, we will provide a pre-set-up SD card for sale, but not right this moment.
Tech details link:  more technical details can be found in the manual at https://github.com/OpenJVS/OpenJVS/blob/master/docs/OpenJVS_IO_Manual_1.2.pdf
---
More from this collection