The Brewing Academy
FujiNet: a Swiss Army knife for your Atari!
Regular price
$55.00
$0.00
#FujiNet is the latest peripheral in development for Atari 8 Bit computers. Originally intended to be a network adapter, it has become an all encompassing SIO peripheral emulator. The software is still a work in progress, but it currently emulates many Atari peripherals (see the list here).
All right, folks, I have finally gotten these to a point where I feel comfortable that I can get them produced, tested, and out the door to you.  The 400/800 cases are still finishing, but they will be in the colors (same manufacturer and same color) that the original run from FujiNet were printed in.  I have put clearly identified copies of the pictures from FujiNet of the cases and will replace them as soon as they come off of the printer. The XL and XE cases are finished and we are in the process of printing more.
#FujiNet was intended to be a network adapter that attaches to the SIO (Peripheral) port of an Atari 8-bit computer system but has become an all encompassing SIO peripheral emulator. The current hardware is a design based on the ESP32-WROVER module and contains a custom 3D printed SIO Plug and Receptacle.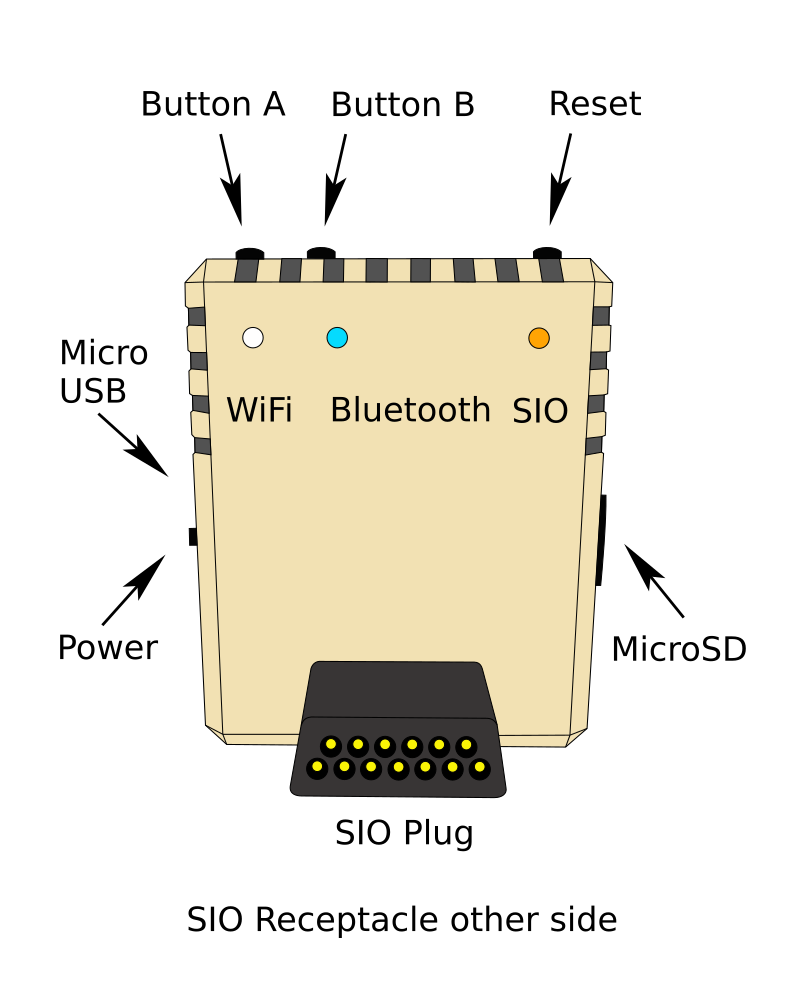 What does it provide?
#FujiNet provides the following functionality in various states of progress:
Dev
Status
Notes
C:
(Cassette)
In Progress
D:
(Disk)
Works
Load floppy disk images from onboard MicroSD or networked TNFS server. Supports ATR, ATX, and XEX formats.
R:
(Modem)
Works
850 Modem emulation, supports Type 1 Poll to load handler. Works with existing communications programs such as Ice-T, BobTerm, AMODEM, PLATOTERM, and BBS servers.
P:
(Printer)
Works / In Progress
Printer output saved to PDF files downloadable from the device. Available Printers: 820, 822, 825, 1020, 1025, 1027, 1029, Espon 80, Okimate 10, HTML for copy/paste, GRANTIC Screen Printer. Example 822 Printouts (PDF): Text & Graphics. Example 1027 Printout (PDF): N-Hndlr ASM Text. More printer support to be added.
N:
(Network)
Works / In Progress
NEW networking device. #FujiNet configuration commands in place and working (WiFi, mounting, etc). TCP/UDP working. Handler in progress.
Other
Working & In Progress
SIO2BT Bluetooth Connection.
Apetime Real Time Clock (NTP).
SAM Text To Speech as a printer, voice output from #FujiNet to Atari (Video with explanation, WAV File & SAM short video).
MIDIMaze network gaming in progress (Video)
NOTE:  These also INCLUDE the fix so that you can use CAS files once that becomes available. This means that we have already installed the "MOTOR" resistor on the SIO port for you.

 OPTIONS:
The base option has no on-off switch.  It is permanently on and will come on as soon as you turn on your Atari. The base option also has no case. (but does, as should be obvious, have the SIO coverings.  It is AS PICTURED above.
JTAG:  You do NOT need this unless you are going to be uploading unstable;e code to the device.  The JTAG is necessary to flash the chip directly.  Regular Firmware upgrades are done via USB.
Power switch: Unless purchased, your FujiNet is permanently set to power on when you turn on the Atari.  This eliminates a sound bug from being engaged when the FujiNet is off when turning on the Atari.  (There is an audio buzz that is somewhat annoying)
Case options:
The cases are the 800 beige, the XL beige or the XE grey.  As I said, they are the same colors used on the website.  I will replace these as soon as I get the ones off of the printer that are printing this weekend.
Questions about manufacture, prices, shipping?  Send them to me.
Manual:  FujiNet really has all the details, but I will look into a printed manual soon.
Disclaimer:  The Brewing Academy is NOT the inventor or creator of this.  We are simply the manufacturer of it.  You can make your own if you wish.  The details can be found HERE 
NOTA BENE: Some users of the FujiNet AND Sophia have been reporting that the Sophia generates RF interference which will cause problems with the FujiNEt's WiFi reception.  Some fixes are to cover the Sophia board with RF shielding and/or move the FujiNet away from the Sophia connector.  The Brewing Academy has operated a FujiNet in an 800XL with a Sophia rev. C and, now, a Sophia 2 for many weeks/months now and have not noticed this problem.  This is NOT to say the problem does not exist.  It is saying "your mileage may vary."
---
More from this collection